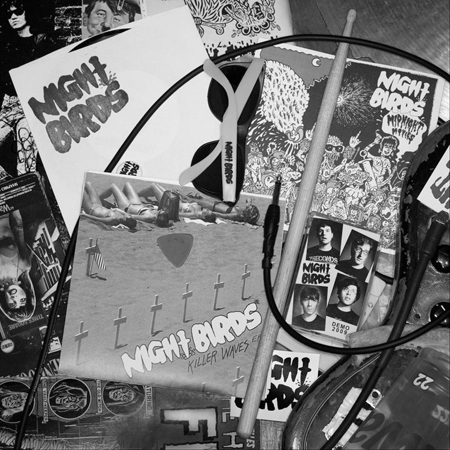 I pumped up the Night Birds at the end of last year with an early review of the Midnight Movies 7″, and then again when counting down the best releases of 2010. After seeing them splash, slice, and writhe through a set in some punk's living room last month, and giving their latest release, the singles collection Fresh Kills Vol. 1 a few dozen spins, it's time to kick you in the ass again, so that finally the message gets through.
I've already given the low down on the sound. 80's surf punk that roars at you with menace and insanity. Like that crazy guy on the corner, hollering about the end of the world. He's obviously nuts, but whether the warning or the performance intrigues you, you have to stop and listen. The songs albeit morbid are infectious, and before you hear the last resonating note of their cover of Eddie & The Showmen's "Squad Car," you're ready to hear them all again. "Midnight Movies" and "Bad Biology" pay homage to B-movie icons while stirring up a catchy ruckus, "Killer Waves" isn't too much on the nose of horror surf, and "Prognosis: Negative" is a hypochondriac's worst nightmare. "Paranoid Times" might possibly be the most classic 80s punk track of them all – a scathing breakdown of our government, the military, and the fear mongered/mongering that surrounds us in this country. Overall, pretty scary themes that match the intensity of the music.
This disc will catch you up on everything the band has recorded so far, and will hopefully prepare you for the forthcoming full-length. The whistle has blown, the ride is about to begin. Grave Mistake will hook you up with boarding passes.