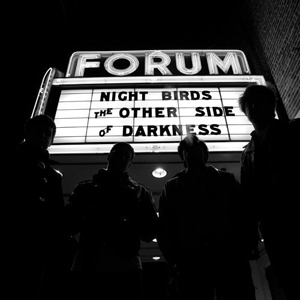 There's not much more to be said about Night Birds. Over the last couple years they've released a slew of 80's inspired surf punk 7″s, and their debut album on Grave Mistake is more of the same. However, just because they are mining the same territory, doesn't mean I can't dig in there with 'em. I suppose instead of saying things like "Adolescents meets Agent Orange!" I can come up with new comparisons like "State of Alert meets Man Or Astro-Man?!" Heck, I might even be justified to name drop For Science, Pysched To Die, Hunchback, and the Ergs! since the band is comprised of members of those groups. But nay, I'll attempt to be above such drivel. Time to delve in a little deeper and see if I can't do an old-school follow-the-tracks review!
The album starts off with "Demon Haunted World," a pummeling pile of hardcore, surf riffs, and a bit of melody that feels like the soundtrack to a punk rock nightmare. It shoots seamlessly into "Neon Gray" which is slightly more straightforward and catchy, and that leads us to "Born of Man and Woman," which inspires even more of a dark-basement-sing-along. It's a song from Mike H., and it's reminiscent of old Hunchback went they leaned more toward memorable horror punk than towards straight up weird. The climax of catchiness concludes with "Landfill Land." Perfectly simple (the kind of song you can hear once and shout and bounce along with before it's even over), perfectly dreadful.
"One Eye" and the title track are both solid, but plateau at the "more 80s hardcore/surf" level. The instrumental "Day After Trinity" picks things up again, giving us more evidence of the band's musical prowess. They play fast, hard, and leave no ounce of energy out of the performance. That might go without saying considering they charge through 13 tracks in 22 minutes, but I'll include it just in case. I consider it a good sign when a band can rip through an album faster than I can type about it.
The second half of the album starts off with "Hoffman Lens" which again has all the cylinders of influences working overtime and "Sex Tape," which surprisingly is the closest thing to a love song on the album. The speed (even compared to the rest of this adrenaline blast it's moving) of "Failed Species" is impressive and captivating. They bring it to a slower chug with "Can't Get Clean," but end everything on the best notes possible with their old "hit" "Paranoid Times" and "Oblivious" which I'm sure will be their next one. Will this album end up on my year-end best-of list? My magic 8-Ball says "Of course, don't be stupid."